Vietnam News – Romantic novel Hanoi Jane inspired by expat's journey
Vietnam News – Romantic novel Hanoi Jane inspired by expat's journey
by Le Huong
People who have lived in Viet Nam for many years or are preparing to move to the country will enjoy Hanoi Jane, the first novel by Canadian writer Elka Ray.
Ray's story is set in the country, while also combining travel, romance, horror and adventure.
Released by publisher Mark Hoffman in October 2012, the story features an American journalist named Jane Moxley who learns that her banker fiance, Wyatt, is cheating on her just months after moving to Ha Noi. Jane sets out to discredit his new girlfriend – a sexy French-Vietnamese aid worker named Lindy Tran. The more Jane discovers, the less genuine Lindy seems, as readers learn she is simultaneously dating three men, and the charity she manages looks awfully shady. What starts as a desperate bid to win Wyatt back turns into the adventure of Jane's life.
As many as 2,000 copies of the book have been sold overseas including Kindle edition.
"I was hooked on Hanoi Jane from the first page," wrote a customer named Dorothy, a book buyer on Amazon.com.
"Ray is a wildly creative, witty writer, using a combination of mystery and romance… I highly recommend this book as the perfect vacation or weekend need-to-escape read…"
"This fiction is hilarious, with spot-on descriptions of Viet Nam. The characters are infectious…This book is a perfect gift for anyone who has visited Viet Nam, plans to visit or is curious about the country…," wrote another customer, named T Evelyn.
"I wrote Hanoi Jane shortly after the birth of my third child," Ray told Viet Nam News, "Like all new mothers, I was really tired and wanted to focus on something light and funny – this book was the result."
Ray said while Hanoi Jane is fiction, the characters were inspired by her recollections of what it was like to be young and single and trying to adapt to life in a new country.
The main character, Jane, feels she does not fit in, but ends up having a great adventure and finding new friends and new love, she said.
"I think readers relate to Jane because, sooner or later, we all experience setbacks and lose confidence, but can overcome most things if we keep our sense of humour," she added.
image: http://image.vietnamnews.vn/uploadvnnews/Storage/Images/2015/7/23/ray-4.jpg?url=Storage/Images/2015/7/23/ray-4.jpg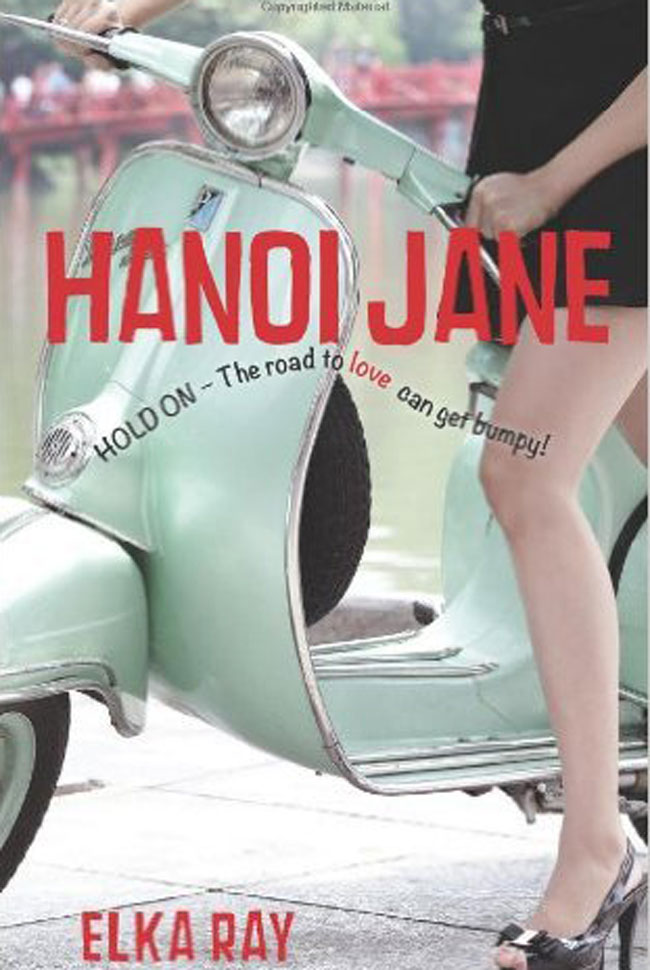 Road to love: Cover of Hanoi Jane, the first novel by Canadian writer Elka Ray.
Born in England, Ray spent her childhood in Canada. After studying Asian Studies and Journalism, Ray moved to Viet Nam in 1996. She works as a freelance writer and editor.
Ray's children inspired her to compose two illustrated bilingual books for children, entitled Vietnam A to Z and 1, 2, 3 Vietnam!, which contain her drawings, and teaches letters and counting while offering a simple knowledge of Vietnamese culture and landscapes for children.
"When my kids were really little, I wanted to read them books about Viet Nam, but couldn't find many good ones in English," Ray recalled. "The books I found were either about the war, and very gloomy, or were weird folk tales that struck me as violent or illogical. To fill the gap, I wrote and illustrated a couple of very simple and colourful bilingual books."
Her children's books are now sold in book shops and souvenir stores in Viet Nam, and also in the US.
"My goal is to make Vietnamese kids proud of their heritage and to teach other children more about Viet Nam," she said.
Ray spent 10 years in Ha Noi, and the past decade in HCM City, where she met and married her husband, Nguyen Dinh Thien, who was born in Viet Nam but grew up in Australia – "the most optimistic person" she knows.
"He's endlessly energetic, funny and outgoing, while I'm much more reserved," she said, "What impresses me the most about Thien is that he can make everything – and I mean everything – more fun, even dull stuff, like going to the supermarket. He's a rare combination because he's very reliable, hard working and organised, but doesn't take life too seriously."
Ray said she felt lucky to have spent twenty years in Viet Nam and experienced an era of massive changes.
"When I came here, Viet Nam was just opening to the wider world. In many ways, it was a very innocent time, and I had many experiences I would never have had elsewhere and which would be impossible today. I feel like Viet Nam and I grew up together," she admitted.
Ray's favourite Vietnamese dishes are very simple: rau muong (morning glory vegetable), xoi (steamed sticky rice) and ca phao (pickled egg plants).
Ray said her next bilingual children's book will be released later this month. Entitled The Warrior Queens, it is an illustrated retelling of the story of the heroic Trung sisters.
"I think this story is important, not just for Vietnamese kids but for children – especially girls – around the world," she said.
"When I was a child I felt very confused and depressed because I knew so many smart girls, but the influential people we learned about in history class were all men."
For adults, Ray is working on a thriller, which is set in Viet Nam. — VNS
Read more at Vietnam News