This post is part of a virtual book tour organized by
Goddess Fish Promotions
. Elka Ray will be awarding a $10 Amazon or Barnes and Noble GC to a randomly drawn winner via rafflecopter during the tour. Click on the tour banner to see the other stops on the tour.
What books/authors have influenced your writing?
After a childhood spent devouring everything from literary classics like "Treasure Island", and "The Wind in the Willows" to '80s trash – i.e. "Flowers in the Attic, "Sweet Valley High", etc – I became a literary snob as a young adult. I read good literary fiction – Michael Ondaatje, Rohinton Mistry, Alice Munro – and wrote bad literary fiction: short stories full of beautiful phrases and zero action, or never-ending novels with heavy (but important) themes. Yawn. So it was a big surprise when a chick lit mystery snuck into my brain to become my first published novel, "Hanoi Jane". Suddenly, I couldn't stop writing – or reading – genre fiction, especially thrillers and mysteries.
No one wants to wade through bad writing. But all the beautiful prose in the world can't save a lame story. The books that have stayed with me the longest could all be classified as "genre fiction": the melodramas of Dickens; the science fiction of John Wyndham, Ray Bradbury and Margaret Atwood; Andrew Piper's ultra creepy ghost story "The Lost Girls"; and the super-smart psychological mysteries of Daphne Du Maurier, Tana French, Harriet Lane and Belinda Bauer. These women prove that genre fiction can teach us as much about the human condition as any literary novel.
Tell us something you hate doing. Why?
Many writers are introverts and I'm no exception. I hate public speaking. "Writers' Festivals" strike me as a cruel joke. I'd rather be home writing – or reading.
Share a funny incident in your life.
I'd like to share a humiliating motherhood story, although it's a bit dirty. Readers with a low tolerance for offensive language and mild sexual content – cover your eyes and look away.
When my son was about two he had a decent vocabulary but bad pronunciation. I usually knew what he was saying but strangers had trouble understanding him. We'd just moved to a new neighborhood and were in a cafe/playground popular with parents and small kids. Instead of sitting at separate tables, patrons sat close together at long picnic benches.
My son toddled over from the sandpit and yelled: "Mommy, do you like pussy?"
I blinked and froze. All I could manage was a feeble, "What?"
His question unanswered, my little boy yelled even louder. "Mommy! I said do you like PUSSY?"
To my left a guy with two small girls was looking at me sideways. I went bright red, racking my brain as to where my two-year-old could have heard such a thing. Frustrated by my lack of response, he bellowed: "MOMMY! I LOVE PUSSY! AND DADDY LOVES PUSSY TOO!"
If I'd whipped off my top to reveal a latex bra, the guy beside me couldn't have looked more shocked. I jumped up and hustled my son back over to the sandpit, thinking: "Be quiet! You're never going to get invited to any playdates!"
It took many more agonizingly embarrassing minutes to figure out what he was saying. At that time, he was besotted with a toy train character called Thomas the Tank Engine. One of the other toy trains is called "Percy". Find me a toddler who can pronounce that name properly. Like they couldn't have called it "Bob" or something…
What's your pet peeve?
Emails marked "URGENT" that aren't. My fingers itch to hit delete.
Who was your favorite hero/heroine?
She's by no means a heroine, but Miss Havisham – the bitter old lady in Dickens' "Great Expectations" is one of my favorite fictional characters. Having been jilted at the altar, Miss Havisham spends the rest of her life lounging around in her tattered wedding gear, poisoning the mind of her adopted daughter, Estella, whom she teaches to mistrust and manipulate men. Miss H is the worst sort of woman – both hateful and pathetic. But she tells us a great deal about life in Victorian England (when this book was written), back when a woman's only "career" choice was to make a good marriage.
An American lawyer dreams of killing his trophy wife in Thailand. A Vietnamese soldier goes mad in a haunted forest. A bereaved mother's trip to Cambodia ends in tragedy – or does it?

Take a spine-tingling journey from the jungles of Sumatra through Bangkok's seedy bars to the seemingly sedate streets of Singapore. Your traveling companions are a slew of dark emotions – fear, grief, jealousy, greed, lust and revenge. And your destination?

With flashes of black humor and hard-to-forget characters, these ten stories shine light into the dark corners of Southeast Asia.
Enjoy an Excerpt:
"Kyle?" I yell. I'm sure my son is gone, sucked down to the bottom.
Blinking against the blood, I see him lying face down on the deck. He's got himself wedged against the boat's sides like a rock climber. I call again and he twists his head. I must look pretty bad, because he gasps. "D—dad?"
The boat is still rocking, but not enough to tip. Water sloshes back and forth. Kyle pushes himself onto his hands and knees. We both look around. Beneath the streaks of rain, the sea is dead calm. No swell. No big whitecaps. Nothing.
"Shit. What happened?" says my son. His face appears bleached. "What was that?"
I've been boating in these waters for going on two decades but can't explain what hit us. If it was the wake from a big cargo ship there'd have been more waves. That wave came from nowhere. Was it a whale? I shake my head. "I…I don't know," I say.
The engine has stalled. My hands are shaking so hard I have trouble restarting it. It roars to life once, twice, only to cut out.
"Daaaad! You're flooding it," says Kyle, his voice a hysterical whine. "It won't start! It won't start! You've flooded it!"
I grit my teeth. "Fine, you try."
If he hears, he doesn't respond but just hugs his knees. "My god. My god. She's here. She's here." He says it over and over again.
"Shut up!" I yell, and my son stops. He presses his palms to his cheeks. I force myself to count to ten before trying the motor again, terrified that Kyle's right: If the motor is flooded, we're stuck out here.
About the Author: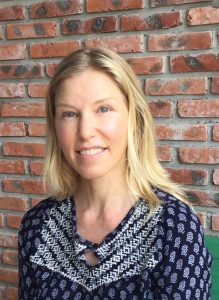 At the age of eleven, Elka Ray co-founded the Double Trouble Detective Agency. She's been on the lookout for mysteries ever since. Elka's latest book, "What You Don't Know: Tales of Obsession, Mystery & Murder in Southeast Asia", takes readers on a darkly suspenseful tour of the Far East. Her first novel, a fast-paced romantic adventure titled "Hanoi Jane", was published by Marshall Cavendish in English and DT Books in Vietnamese. Elka's next novel, the thriller "Saigon Dark", will come out with Crimewave Press in November 2016. Elka is also the author and illustrator of a popular series of bilingual kids' picture books about Vietnam.
Elka divides her time between Hoi An in Central Vietnam and Canada's scenic Vancouver Island. When she's not writing, drawing or reading she's in – or near -the ocean.